(Click image for larger version)
The Toy Polaroid
(Michelle's blog)
---
Into Real Pages is exactly what I have been looking for! They have a layout that uses the page wisely and doesn't leave a bunch of white, empty, unused space. The pictures are printed in colorful ink and look amazing. I love seeing my experiences and blog posts in an elegant book! I was able to have 18 months of memories in one little square book. Also, I was very surprised and pleased with the customer service and attention given to me on a personal level. I am excited to start my bookshelf of memories thanks to Into Real Pages!


---
Faith, family & me
(Lucy's blog)
Thank you so much for giving my my favourite possession! I searched high and low when deciding to put my blog into a book and I'm so glad I went with Into Real Pages.
The website is easy and quick to use, the production and posting time is good but my goodness there are no words to explain the actual book.
It's so high quality, the front cover and inner pages included. The blog is laid out perfectly month by month. It looks so professional and I couldn't be happier with it - thank you so much! I'll definitely be back each year!
---
A Picture A Day Keeps The Memories Here To Stay
(Brad's blog)
When a friend told me about IntoRealPages, I practically went straight home to begin designing my books. After blogging daily for over 4 years, the thought of having a physical book of all of my travels and memories was exciting.
The process was easy, the customer service was excellent, and the book quality is top-notch. The cover, the binding, the colors, the size, the paper... what a terrific product.
Making the investment in these books has also created a great conversation piece in our family room, which is travel-themed!
---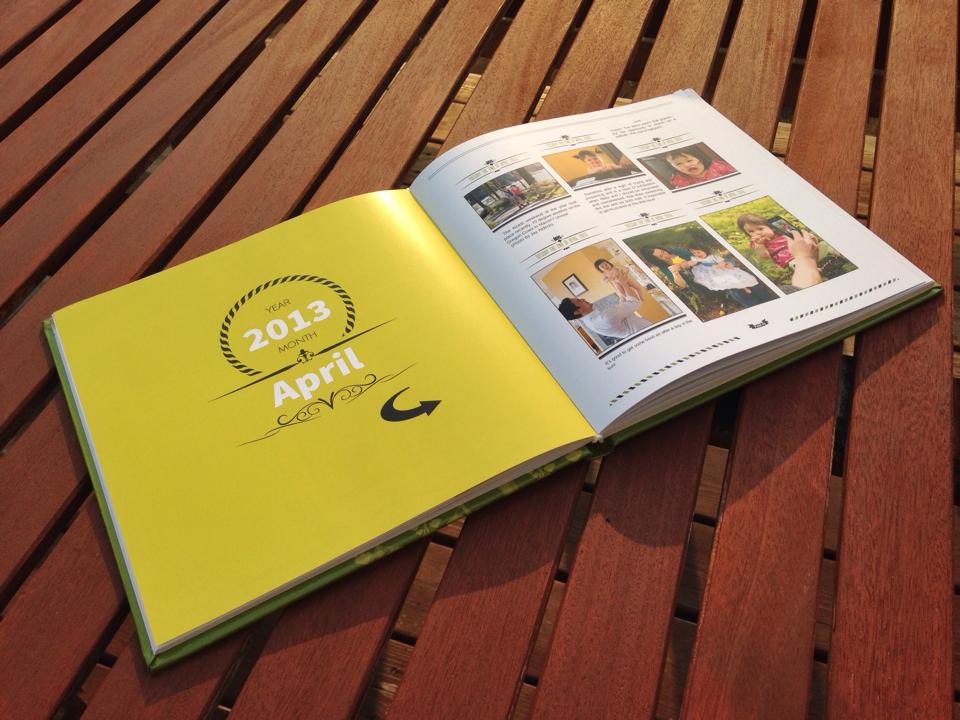 (Click image for larger version)
Jill's family blog
I just transformed my tumblr blog into a book
You just can't replace the look and feel of real paper. Check out Into Real Pages!
---
---
Aurelie's American adventure
(Aurelie's blog)
And another beautiful example of how your blog looks when you print it as a book with Into Real Pages! 😉
Thanks to Aurélie for allowing us to use pictures of her book on our social media!
Aurelie has printed many books with us from the very start of our existence. And we have allowed her to print this one for free
---
(Click image for larger version)
The Nglets
(By Hui-Leng, Singapore)
I have tried few blog-to-book services, but found them either difficult to use, or did not produce the results I wanted. Was about to give up on the idea of turning my blog into a book when I chanced upon Into Real Pages. Tried it and was very pleasantly surprised by the results. I love the layout and the quality of the printing. My questions to the team, as I was building the books, were very promptly and patiently attended to. My kids, the main reason for my blog, are just as thrilled with the books. Thank you so much! Will be back for more books!
---
(Click image for larger version)
Tall tales. Travels near and far
(Hayley's blog)
I wanted to make a book of the blog posts from my trip to Poland and chose Into Real Pages after researching options for creating photo books with lots of text. I was happy to find sites that imported the text and photos directly from your blog, saving an incredible amount of time, but it seemed that only Into Real Pages offered some creative control and the ability to edit content. I made the book with primarily my mother in mind and she was absolutely delighted.
The quality is excellent and I'll be converting other trips into books as time permits. Thank you!
---
(Click image for larger version)
Frau Anni in San Francisco
My blog is turned into a book! My time in San Francisco is forever captured in pictures and words. I can looked at all my memories, leaf through them and read back all my thoughts. Yes, I say it again: a book! A marvelleous and big book! 483 pages to enjoy. Looking back, I realize only now what an adventure it all has been. Friends, once more, I wrote a book!
---
(Click image for larger version)
Bakari's book reviews and personal notes
(Makeuseof.com)
Bakari Chavanu is an author who writes articles for the well known website Make Use Of. He also wrote a story dedicated to Booklrs (as Into Real Pages was previously called).
Booklrs is the best solutions for your self-publishing needs — it doesn't require you to upload or layout anything. It does the entire publishing process for you.
---
Meredith's Chicago Adventure blog
---
Thank you Into Real Pages for turning my summer memories into a book! Great print job, quick turnaround, and so comforting to have a physical copy of my blog.
---
(Click image for larger version. Note that the books in this picture are still sealed.)
Sal & Dom's travel adventures
Hello Into Real Pages, we received the books the other day and they're superb!!!! We'll be in contact again for sure when the next adventure is completed!!
---
(Click image for larger version)
Daily Chuckles
Our hardcover copy of Daily Chuckles vol 1 (2012) finally arrived and we love it!!
---
The Paschke Family
Hi Into Real Pages, I received the book today!!! It is really wonderful and my wife is going to love it!!
Love for Lucas
Hi Into Real Pages!!! We received the book!!!! It is perfect.
Grown up Us
The book is very nice. Great quality. I like that the layout is blog-like. If you want to ping me in January with a deal to make a 2014 book I'll likely buy it to finish up the year.